Procurement Control

In the last few years, on many occasions ASYMPTOTE has supplied integrated assistance for Purchases of a technical nature on numerous projects.
With this wealth of experience, and at the request of our Clients that want to optimise their organisation, we have developed a methodology which allows us to ensure, in agreement with the ethical rules associated with the profession, fixed rate services in Equipment Purchases and Project Contracts.
This study, carried out in close collaboration with our principal ordering parties, generated the process described by the block diagram below.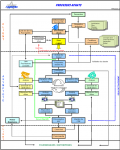 Click on image to discover Process (Fr version)
Backed by this methodology and our general and specific procedures, ASYMPTOTE is in a position to offer, through fixed rate solutions or technical assistance, to handle all or a part of your purchases, on your behalf, at the technical conditions specified and at the best costs.
Moreover, concerned with demonstrating to you its full determination to effectively defend your interests, ASYMPTOTE is willing to match its remuneration conditions with bonus-malus clauses.